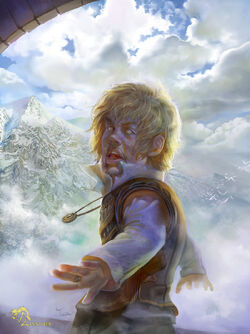 WHEN IS The Winds of Winter COMING OUT?! Every fan of A Song of Ice and Fire has this question in their minds, but could things be coming sooner rather than later? Entertainment Weekly released a first look at Martin's long awaited novel, and, while it's just a paragraph, at least it's something!
TYRION
Somewhere off in the far distance, a dying man was screaming for his mother. "To horse!" a man was yelling in Ghiscari, in the next camp to the north of the Second Sons. "To horse! To horse!" High and shrill, his voice carried a long way in the morning air, far beyond his own encampment. Tyrion knew just enough Ghiscari to understand the words, but the fear in his voice would have been plain in any tongue. I know how he feels.
EW also reports that Random House will launch a large update for George R.R. Martin's A World of Ice and Fire app next month! The update is supposed to includ many new characters and location descriptions, but it's also going to include an exclusive chapter from The Winds of Winter from Tyrion Lannister's perspective. The paragraph above is just a taste of what fans will see with the update!
Luckily, fans will be able to download and access the excerpt in the free version — no payment required. We seriously cannot wait for the chapter to get revealed! What about you? Are these chapter teasers making you happy or just making the wait worse? Sound off in the comments below!
Source: EW
---
---