UPDATE: See how the feast looks in real life!
Click here
for Wikia's Westeros Feast!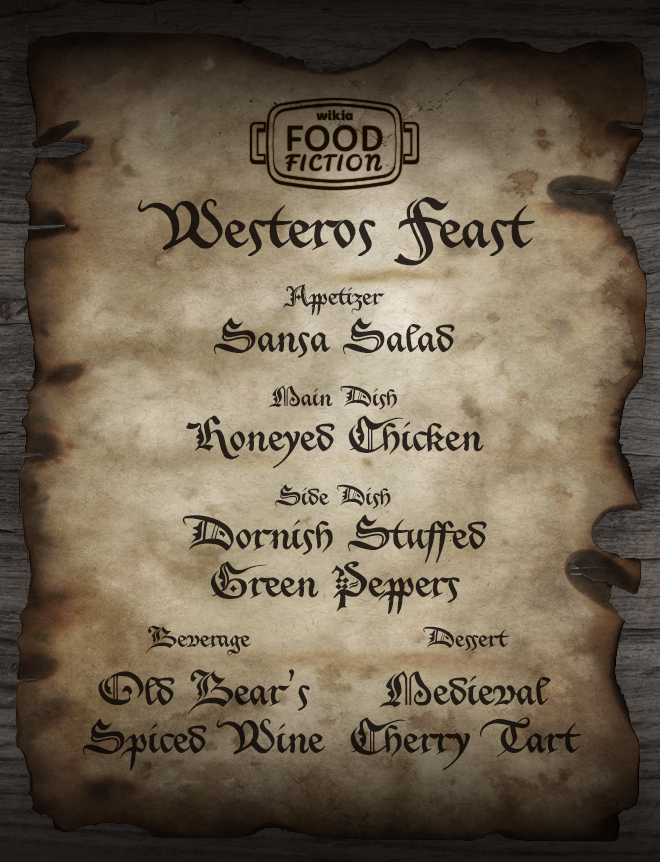 Anyone who is a fan of the epic Song of Ice and Fire book series can attest that food plays a VERY prominent role. The myriad of dishes and various ales and wine could actually each be their own characters considering the amount of page time George R.R. Martin dedicates to them! With this in mind, and to also commemorate the recent premiere of the Game of Thrones' series 3rd season on HBO, we've picked the Ice and Fire WIki to host a Food Fiction contest to design the perfect Westeros Feast!
Check back on April 17th to see how the Wikia Staff team did on creating this feast!
If you're interested in the numbers, here are the five Top 10 lists - one for each course that would be served at the Feast:
- Appetizer
- Main Dish
- Side
- Beverage
- Dessert

The Giveaway!

Our special giveaway is still going on! The Inn at Crossroads folks have given us a copy of their cookbook to award to one of our Twitter followers on @WikiaEats. To win, just help us spread the word about this contest by tweeting a link to this post, include @WikiaEats, and include #foodfiction and be entered. Please also follow @WikiaEats so we can DM you when you win.
So, get ready and come back Monday to see how Wikia does in preparing the feast that YOU selected!
Share This!
Ad blocker interference detected!
Wikia is a free-to-use site that makes money from advertising. We have a modified experience for viewers using ad blockers

Wikia is not accessible if you've made further modifications. Remove the custom ad blocker rule(s) and the page will load as expected.