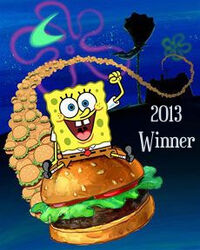 Hey there!
Who's ready for a FANTASY FOOD FIGHT? Last year, 64 foods from communities all over Wikia battled it out for the ultimate fantasy food.
The Krabby Patty is our defending champion, so which food will defeat it this year? We have all of our submissions now...so head over to the Battle of the Fantasy Foods to see if YOUR community is represented.
Ad blocker interference detected!
Wikia is a free-to-use site that makes money from advertising. We have a modified experience for viewers using ad blockers

Wikia is not accessible if you've made further modifications. Remove the custom ad blocker rule(s) and the page will load as expected.