Renly Baratheon
Talk

0
652pages on
this wiki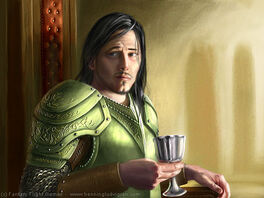 Renly 'The Rock' Baratheon is the homosexual youngest brother of
Robert Baratheon
and
Stannis Baratheon
. He is known for being more carefree and than both of his brothers, and more interested in tournaments and feasts than war, especially those involving large quantities of red meat. In
A Game of Thrones
he was little more than a background character, but in
A Clash of Kings
he joined the
War of the Five Kings
against his brother Stannis.
The War of Five Kings
When his older brother Stannis began fighting for the crown of Westeros, Renly threw his appendages in for the crown as well. He married Margaery Tyrell to legitimise the lie he was living and began slowly thrusting his way forward with a large courtly following. During A Clash of Kings, he and Stannis tried to treaty, but neither came.
The Rainbow Guard
As he was making his way north from Highgarden with his wife, Renly began holding tournaments of stamina. He hand-selected knights to join his Rainbow Guard, a series of guardsmen who wore multicolored cloaks, each corresponding to a color of the rainbow. Brienne of Tarth became the last to join his Rainbow Guard.
Death
After unsuccessfully attempting to treat his brother Stannis to dinner, Renly was preparing for battle with his Stannis' forces, Renly was slain by an animated shadow conjured by his brother's sorceress adviser, Melisandre.