Jon Snow
Talk

1
651pages on
this wiki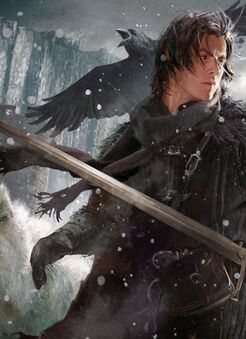 Jon Snow is the bastard son of Eddard Stark by a woman named Wylla. Nothing else is known about her, as Eddard absolutely refuses to speak of her to anyone, even Jon himself. He was born during the War of the Usurper and brought back by Eddard to live in Winterfell, to the distress of Eddard's wife Catelyn.
Jon is a major POV character in A Game of Thrones, A Clash of Kings, A Storm of Swords and A Dance with Dragons.
In the television adaptation of the novels, he is played by Kit Harington.
There is heavy speculation over his true parentage. Various evidence throughout the series thus far heavily implies that Jon is in actual fact the son of Lyanna Stark and Rhaegar Targaryen, and that Ned raised him after his sister said at the tower of Joy "Promise me Ned," a vow that haunted Ned for the rest of his life. Rhaegar is also seen in a vision saying to his wife "His is the song of Ice and Fire he is the prince that was promised but the Dragon has three heads there must be one more". This refers to the fact that he has two children, but his wife Elia can give him no more children because of her delicate health and it is implied that he ran off with Lyanna to give her a child and legitimise him as a Targaryen. In this case it means that Jon has a strong claim to the Targaryen Throne, before Daenarys and after his older half brother Aegon.
Another Image that violates Copyrights, that was uploaded by User_talk:Rosettez