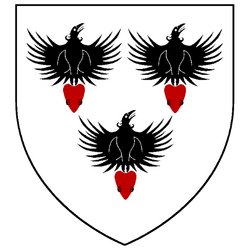 House Corbray is a poor but noble, old house located in The Vale.
Historical members
Edit
Lord Corwyn Corbray, Andal warlord and founder of the house.
King Qyle Corbray, first Andal king killed by Robar II Royce.
Ser Jaime Corbray, a knight who fought during the Battle of the Seven Stars.
Ser Gawen Corbray, Master-at-arms of the Red Keep during the reign of Aegon I Targaeryen.
Ser Corwyn Corbray, a knight and first husband of Princess Rhaena Targaryen. Killed by a crossbowman at Runestone.